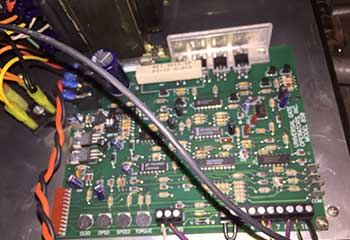 Opener Repair
Customer Issue: Mr. Cain's garage door had troubles with opening and closing reliably, and would sometimes even reverse abruptly when he tried to close it.
Our Solution: Mr. Cain had a Chamberlain C870 model garage door opener, which we disconnected and brought down to open and inspect for problems. Some testing led our experts to find that the circuit board had some damage that required repairs. We tended to it, then reinstalled it so we could confirm that the door now worked easily for Mr. Cain.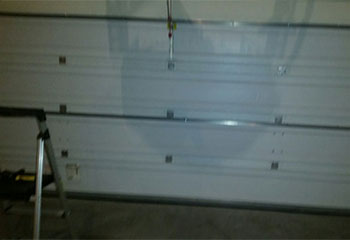 New Garage Door Installation
Customer Issue: The Tilly family refurbished an old garage, and ordered an automatic overhead door for it.
Our Solution: Under our advice after consultation, the Tillies ordered a complete LiftMaster/Amarr package. Our team installed the LM8550 opener with its belt drive and trolley, a fourteen foot Heritage Collection steel door and spring assembly, and a pair of 395MAX remote handsets. The installation was orderly, and the resulting system highly efficient.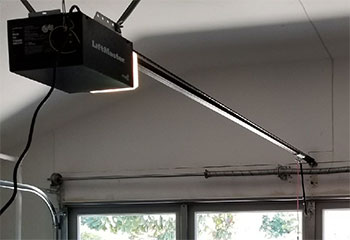 Opener Replacement
Customer Issue: Opener only worked sporadically.
Our Solution: After examining the opener as well as the related components such as the remote control and wall pad, we determined that the wiring was no longer functioning properly. We assisted the customer in picking a new LiftMaster before replacing the old one.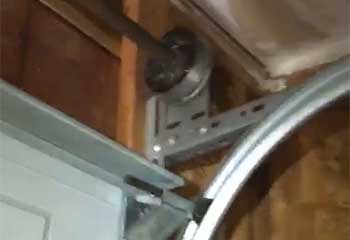 Cable Replacement
Customer Issue: Broken lift cables.
Our Solution: Even though the torsion spring was in a good condition, the door still couldn't move. Turns out the lift cables broke and the customer hadn't notice. We replaced them both with new ones and then made sure everything else was ok.
Jasmine Fortulini
- Olympia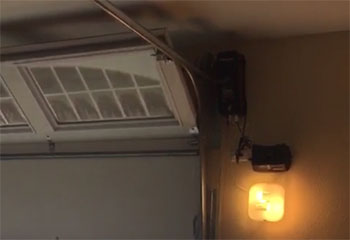 Garage Door Off Track
Customer Issue: Bent tracks.
Our Solution: Both horizontal tracks were seriously bent, which was why the door nearly came crashing down. We straightened the tracks and then reinserted the rollers and realigned them with the door. We then made sure the system could open and close safely again.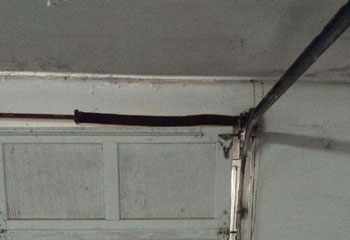 Spring Replacement
Customer Issue: Broken spring.
Our Solution: The door slammed shut because its torsion spring broke. We quickly removed the damaged component and installed a new one in its place. After making sure the door was able to open safely again, we gave the customer some tips on how to prevent a lot of accidents from happening.