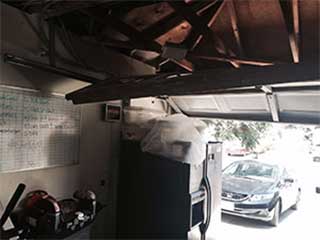 Making sure that your overhead door system stays in a good working condition is very important; there are plenty of things that can go wrong with it, so it's good to keep an eye on potential problems. However, it's vital that you know where to draw the line - there are some jobs that are just too dangerous or complicated for you to try to DIY.
Replacing Broken Springs
Whether your door system uses torsion or extension springs is irrelevant, as both of them can be incredibly dangerous when mishandled. The springs support the weight of the panels and help the door move, and they are therefore under a lot of tension on a daily basis. If this tension isn't properly released when they need to be replaced, the springs can easily damage and injure anyone standing nearby. Our technicians know exactly how to perform spring replacement safely and quickly, and we strongly recommend that you leave this type of task up to us; it's too easy to hurt yourself if you don't have the professional training and the experience that's required.
Fixing Damaged Wiring
It's all too easy to accidentally damage the electrical wires in your garage door opener. Whether it's a power supply or a sensor wire, it's important that you don't try and handle this type of electrical component by yourself; apart from the dangers of electrocution, you might not be able to fully reconnect the damaged components, and if these are the safety sensors, then your safety and the safety of anyone who uses your door can be compromised. That's why it's much better to have a professional deal with an electrical problem if it occurs. Best case scenario, your opener won't work. Worst case scenario, well, let's just move on. We don't want to get grim.
Installing A New Opener
Upgrading your opener is a great idea, but it's crucial that you get it installed correctly. It has to be perfectly aligned with every other part of your overhead door system in order to function correctly; otherwise, you'll end up causing more problems that can put your safety at risk. Our technicians will expertly attach your new opener to solid overhead blocking, and make sure that the safety sensors alignment is correct, and that the limit switch is set appropriately.
Replacing Damaged Door Panels
If your door panels get damaged, it's important to have them replaced quickly; a significant dent can provide an entry point for a burglar's crowbar, or a way for some pests to get inside your garage. Door panels are usually heavy and difficult to install, so we thoroughly recommend that you contact our team at Garage Door Repair Olympia for assistance if you need some help with them, or any of the other problems we mentioned before.