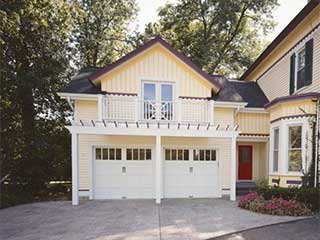 It's a part of the house that few homeowners really think about on a regular basis, but your garage door system is really important. It's far more than just a convenient time-saving machine (although it is certainly convenient), and it's well worth considering whether you're getting the most out of your door. Here are our top reasons why your overhead door is important, and why you should look after it.
Safety And Security

Home security is a huge concern for most homeowners, who will happily invest thousands of dollars in locks, alarms, and gadgets of all kinds to keep out intruders. But how many homeowners consider the security of their garage? There's plenty of expensive equipment in the typical family garage, and if it's attached to your home, as many it often is, a vulnerable garage door can allow thieves to easily gain access. For added security, consider investing in a garage door defender, which is a type of T-bar lock designed to secure your overhead door. Modern openers also have digital lock features, as well as the ability to guard against remote control duplication by using rolling code technology. These are smart innovations that can prevent even the cleverest of thieves from getting in.

Keep Energy Costs Down

Everyone wants to stay warm in winter and cool in summer, and an insulated garage door is a good way to help you achieve this. The closer your garage's temperature is to the rest of your home the less you'll spend on climate control, saving you money on your electrical bill each month. Finding a door that's both secure and uses the right insulation material can be exhausting, which is why you should consult with our experts before making a decision.

An Increase To Curb Appeal

No matter how beautiful the rest of your home looks, a bent and battered old garage door will always draw the eye's attention. If you want to generate real curb appeal you need a garage door that looks great, and the market is full of wonderful options to choose from. Our team works with brands like Amarr, Clopay and Raynor and we can help you find a beautiful wooden or steel door that will make your home look even better than it currently looks.

Upgrading Your System

Do you need a door that's safer, "smarter", or better insulated? Our team can help you choose the perfect door for your home; contact Garage Door Repair Olympia today to find out how we can help you.